September 26, 2023
Best Antiviral & Antibacterial Molecule R&D Specialists 2023
Started in February 2020, the SAJO blog is providing information about pandemics, pathogens, infectious diseases and further important topics.
You may zoom in and out using CTRL+ and CTRL-
Dear readers,
A happy event came as a surprise in May 2023. SAJO was nominated in the UK for the Global Health & Pharma Award (GHP). The nomination took us by surprise, and we accepted it with pleasure. Thank you to the committee who chose us.
In July, we learned that we had won the prize in our industrial sector (https://www.ghp-news.com/winners-list/?award=11481-2023). On September 20, 2023, the Global Health & Pharma Magazine went online (https://www.ghp-news.com/issues/healthcare-and-pharma-awards-2023/) with an editorial featuring SAJO on page 7: https://www.ghp-news.com/issues/healthcare-and-pharma-awards-2023/6/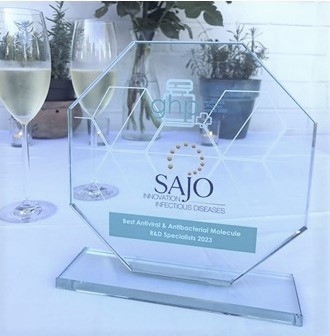 It is a real honor and pleasure about this sign of appreciation. From our side, we want to congratulate all the other nominees and winners. Let us all go into a bright future together.
Last week, SAJO celebrated in a private ceremony. What a joy! We say thank you again.
This award is not just for us, it goes to all the people working with us, to our whole team, and to our network. Without you, this would not have worked.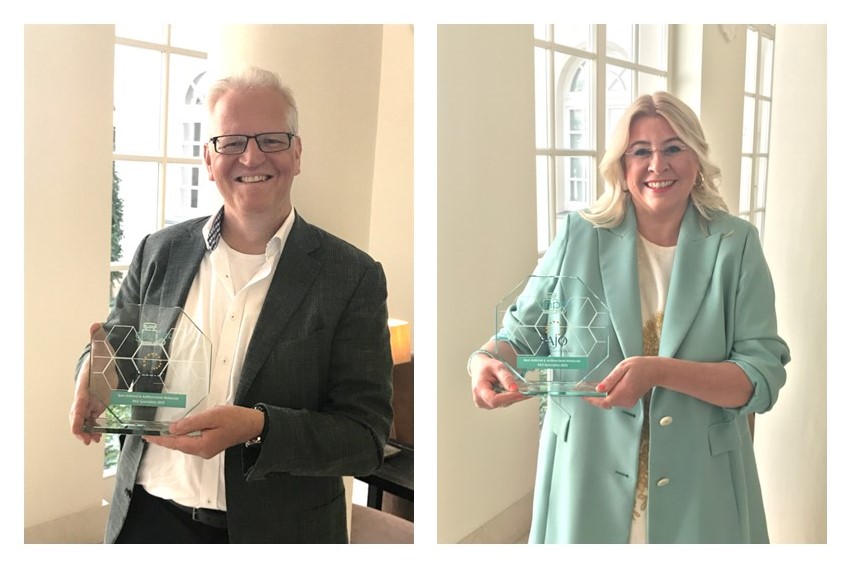 Dr. Jörg Baumann and Dr. Sabine Breun with the Global Healthcare & Pharmaceutical Award 2023 as "Best Antiviral and Antibacterial Molecule R&D Specialists 2023". (Aachen, Germany, September 21, 2023)
The Editorial was written wonderfully by its authors, right to the point:
Best Antiviral & Antibacterial Molecule R&D Specialists 2023
Located in Germany, SAJO is a research-driven enterprise working to prepare the world for the inevitable pandemic threats of the future. To this end, it has created advanced technology that can quickly and accurately identify compounds with strong antiviral activity. This will equip humanity with the tools it needs to defeat the next century of infectious diseases.
Originally established as a consulting firm focused on infectious disease, SAJO has evolved into an operational business for antiviral drug development. Its core discipline lies in the market of screening for drugs and drug targets for antiviral intervention.
SAJO was founded by Dr. Sabine Breun and Dr. Jörg Baumann, two experienced scientists turned entrepreneurs. They are committed to contributing towards the global effort to fight the infectious diseases that threaten mankind.
The duo started out in basic research in the 1990s, working in US elite programmes related to infectious diseases, particularly viruses. Eventually, they returned to Germany, where they set up their laboratory in a public research facility and used their established knowledge to move into the field of applied science.
In order to achieve their goals, Dr. Breun and Dr. Baumann decided to start their own enterprise: SAJO. There, they invented their groundbreaking technology for the efficient identification and isolation of antiviral molecules.
Antivirals will always be in constant demand across the world. There are countless viral pathogens present in the animal kingdom, a significant number of which have the potential to one day overcome the species barrier and infect humans. This has occurred a number of times before, as we have seen with HIV, Influenza, and SARS-CoV-2, and others. In principle, every virus causing disease in humans has an animal origin.
Because of this, experts believe that another pandemic is inevitable. In fact, the virus that will cause it has already been given a name by the World Health Organization: Pathogen X.
With its proprietary technology, SAJO is able to identify molecules with a broad range of strong antiviral activity in a quick and efficient manner. From this, the company will develop an arsenal of antiviral tools to prepare the world for the pandemic caused by Pathogen X.
Whilst it also partners with biotechnology companies, SAJO primarily serves clients in the pharmaceutical industry, who have the assets and expertise to bring a drug to market but have found that many of their pipelines have run dry. SAJO is well-equipped to replenish these.
With a clear vision, SAJO sets itself apart from competitors through its groundbreaking and unique technology, an invention based on many years of experience and research. Over the years, it has worked to improve, modify, and fine-tune this invention to result in a high-end tool with superior efficacy.
Toxicity is a significant challenge faced by companies that carry out drug screening. Any molecule, once identified, must undergo rigorous toxicity testing, making development time-consuming and costly. SAJO's invention features a screening system which not only sieves out any non-functional and weak molecules but also actively excludes toxic molecules. This is a strong competitive advantage for the company since it speeds up the development process significantly.
Currently, SAJO is working to expand its reach by leveraging the media, conferences, and the internet. The SAJO blog, a pro bono project worked on by Dr. Breun and Dr. Baumann, provides a host of concise scientific information related to infectious diseases, pandemics, and climate change, presented in an easy-to-understand way.
The blog, located on the homepage of the SAJO website, has been receiving increased attention, with its annual visitor count now exceeding 800,000. This is due to the public's growing interest in scientific facts related to the pandemic and other hot topics.
In the coming years, SAJO will continue to search for partners, clients, and investors through internet presentation, B2B contacts, and other channels. Any interested individuals, sectors, clients, and companies are welcome to reach out to SAJO if they wish.
For the rest of 2023 and 2024, SAJO will focus on acquiring solid funding to support it in the next decade. In this time, the company will be able to build a large bank of antiviral and antibacterial molecules. These will provide medication to the world for the next century, enabling humans to consistently fight infectious diseases, regardless of re-emerging and new pathogens. In addition to this, it plans to finalise the development of its technology to include antibacterial screening.
As a result of its outstanding work, SAJO has been awarded Best Antiviral & Antibacterial Molecule R&D Specialists in the Healthcare and Pharmaceutical Awards 2023. We congratulate Dr. Breun and Dr. Baumann on this commendable achievement and look forward to seeing how their ambitious plans unfold. GHP Healthcare & Pharma Awards 2023
You may find the PDF here.
This award is for all the people who work with and for SAJO. This includes our complete professional network and service providers. THIS IS FOR YOU!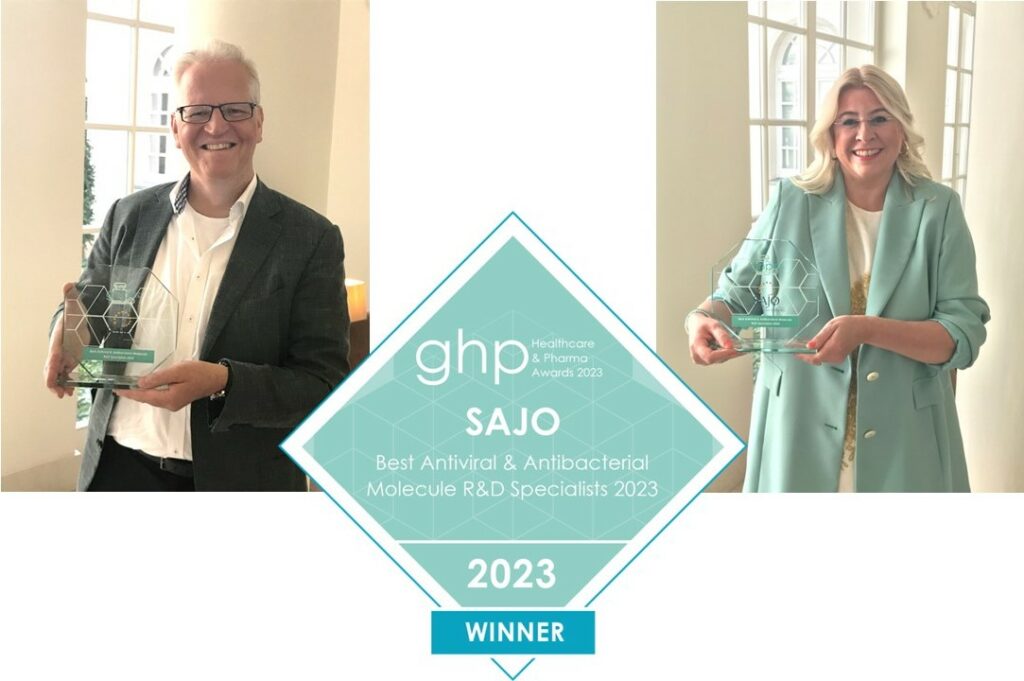 Our network also includes patent attorneys and lawyers as well as designers and IT professionals. We also want to thank those who accompanied us, of whom we could learn. Starting with our professors at the university, and the giants in the US on whose shoulders we are standing, and not to forget the people who taught us how to run a company. You never stop learning. We always strive for the best – every single day. Thanks to all of you.
Now we hope to secure the necessary financial support for the expansion of our endeavor. This is the upcoming step.
The good reason for antiviral and antibacterial drugs should be common sense after the pandemic. Should long covid really be caused by a hidden viral reservoir within the body, even more antiviral drugs will become a necessity. This is where SAJO comes into play.
Just imagine you had an arsenal of medications at hand, that you could use for prophylaxis or acute treatment immediately. SAJO makes it possible.
SAJO is working on it. SAJO wants to reach a point where nobody has to suffer or die from infectious diseases. Infectious diseases are among the biggest killers globally, fueled by the global climate change. We want, and we can stop this trend. Feel free to help us if you can. Play your part. How? This is up to you. Get into contact with us. Our phone lines are open.
The management's main task is currently to secure financing for the upcoming years. Support us. Contact us, become a part of the SAJO success story.
We are open for suggestions.
SAJO is a specific attitude to life. It stands for healthy and positive values.
SAJO had been awarded last year with the Business Award Berlin 2022 in Gold. Take a look at the two respective posts:
https://www.sajo-innovation.de/blog/sajo-is-celebrating-business-award-berlin-2022-in-gold/
https://www.sajo-innovation.de/blog/business-award-berlin-2022-sajo-awarded-gold/
After the "Berlin Award" and the "Global Award", next we shall strive for the "Galaxy Award" and the "Cosmic Award" in our industrial sector 🙂
Stay alert and considerate, and always informed. In October we will post some news on the new variants of SARS-CoV-2 and the increasing numbers of infections.
By the way, this is blog post No. 260. Take care and thank you very much again.
Yours, Sabine and Joerg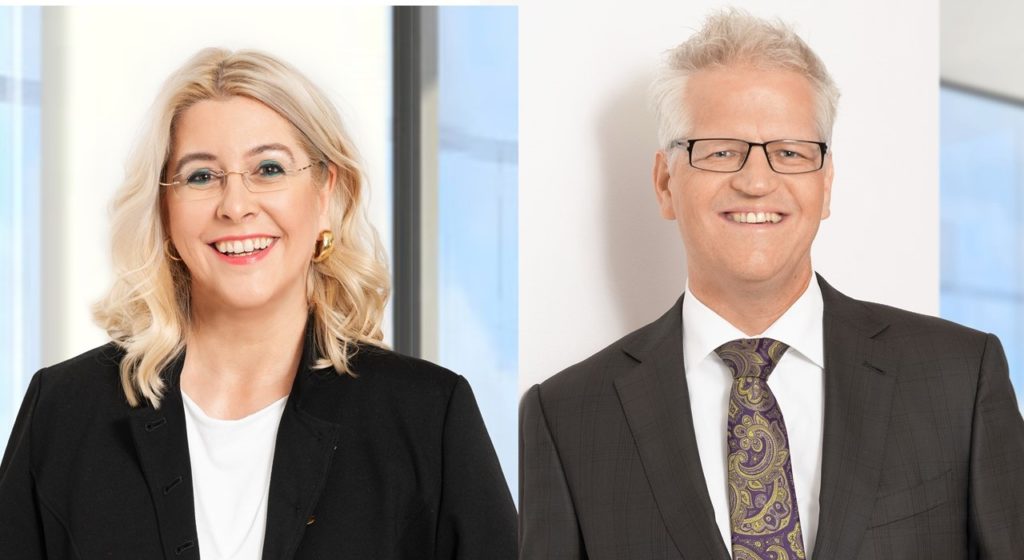 Dr. Sabine Breun and Dr. Joerg Baumann, both Ph.D.s, virologists, immunologists, molecular biologists and founders of SAJO. Both are specialized in infectious diseases. Since the 90s, Dr. Baumann has been working on zoonoses and how pathogens overcome the species barrier. Since 2000, Dr. Breun works on the interaction of viruses with the immune system. Both work as team. SAJO enables new antivirals – antivirals of the next generation to fight pandemics.
During their scientific carreers, both performed scientific work for 5 years at the National Cancer Institute in a US elite program on competitive US scholarships.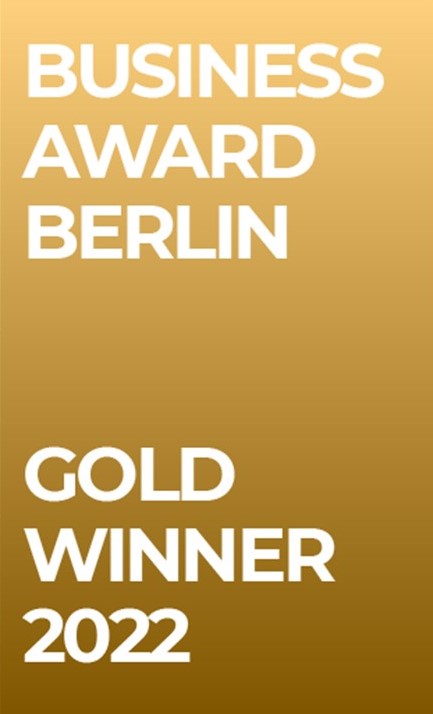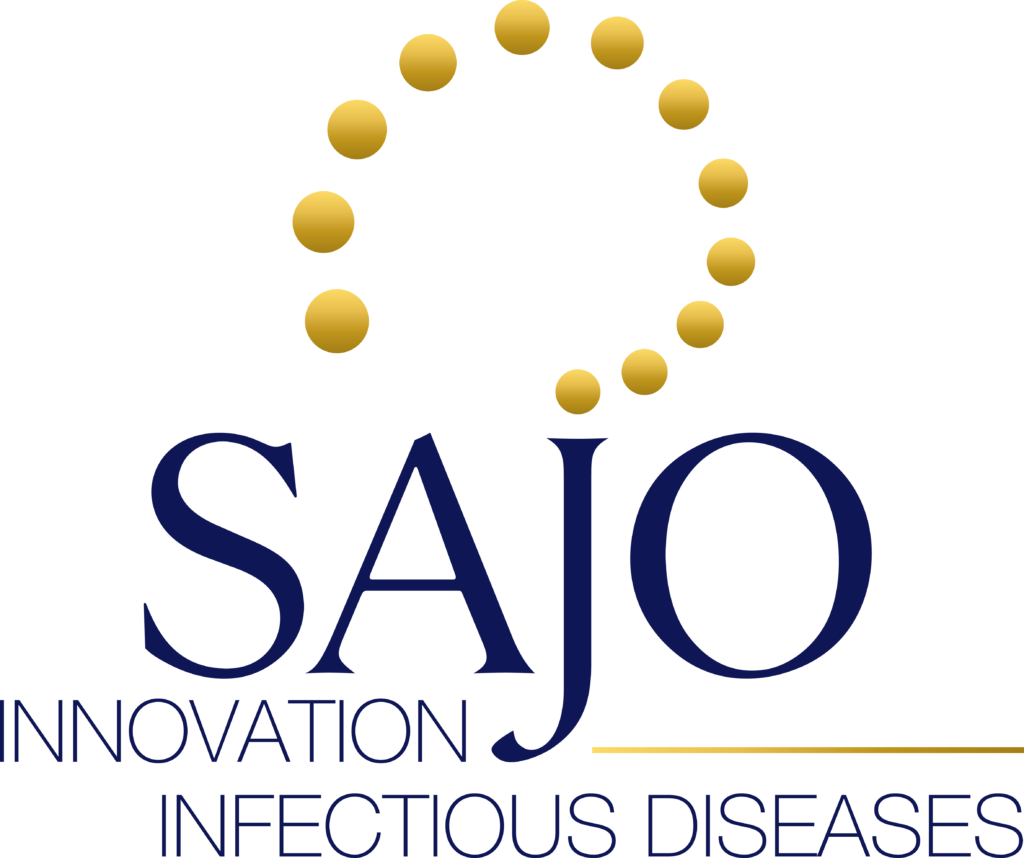 SAJO – for a healthy and better future!
SAJO is consulting all around infectious diseases. We are applying our know-how, that we have acquired in more than 20 years. We do what we can to fight this pandemic.


This is post No. 260. To our delight our blog is receiving a lot of readers, we love to share our know-how and expertise. Please feel free to share the link – it is an informative tool to fight this pandemic and upcoming threats.
(Note: We are no members of political parties, religious congregations, or societies. We value independence, sovereignty, and freedom. With our blog we are providing purely scientific advice, without conflict of interest, altruistic. We are not being paid for it.)

The SAJO high technology (the heart of SAJO) allows for the identification and isolation of next generation antiviral and antibacterial components for the development of new drugs, for prevention or therapy. This is what we do best – these are our USP and our strength.
#1 We want to treat, cure and prevent infectious diseases with new therapeutic drugs. Calls for investments and financing are open. If you aim at the same goal, then please get into contact with us.
#2 Should you like to have SAJO antivirals or antibacterials, or to give a contract, or need consultation, or to invest into SAJO, please do not hesitate to contact us. You may use the form on our homepage or phone number +49 176 2198 1495 or email info@sajo-innovation.de. We are looking forward to talking to you.
The SAJO business model: https://www.sajo-innovation.de/sajo-Flyer.pdf
Visit Sabine at XING https://www.xing.com/profile/Sabine_Breun and Jörg at LinkedIn https://de.linkedin.com/in/j%C3%B6rg-baumann-phd-0710b11a3