December 4th, 2021
(You may zoom in and out using CTRL+ and CTRL-)
It was sometime in late 2006. We had just set up our lab in Leipzig, Germany, after arriving from the US, that summer. We had secured research funding by the EU and a German foundation. So, we were working on getting equipment, consumables, and most of all hiring staff to help with our work. Times were busy. However, we always had a policy of open doors. This proved to be of great luck to us.
One day, after a knock at the door, an elderly man stepped in, dressed in hiking clothes and boots, carrying a well-worn leather briefcase. He had a shock of white hair, bright eyes, and the smallest of a smile on his face. He introduced himself as Anatomy Professor Emeritus Dieter Reißig, and he had a proposition to make.
He had heard of our arrival, and he had heard of our work on HIV. He then told us about his long-standing relationship with the University of Gondar, Ethiopia. He wanted to know if we would like to engage in a collaboration. We immediately jumped to the occasion. This was the start of a cooperation with Prof. Reißig and his colleagues with a focus on co-infections with other pathogens in AIDS patients.
Prof. Reißig had visited Ethiopia in the 1970s, and he never lost contact to the country, and to their scientists. In fact, it became his second home. Each year, he would spend several weeks to months at Gondar University. He helped set up an anatomical morgue and a laboratory, teaching numerous students on the way. He was a hands-on person. Always approachable. We do not know how many students he had mentored during this time. The number might be staggering.
Together with Prof. Reißig and junior colleagues from Gondar University, we managed to secure funding for an HIV diagnostics lab at Gondar university. This even made it to the press: https://www.openpr.de/news/353561/Nachhaltige-Kooperation-zur-Bekaempfung-von-AIDS.html
Prof. Reißig also accompanied us to our visit to this great country. We spent two weeks at Gondar University, giving talks and seminars, meeting with colleagues and students. We were thrilled to see such enthusiastic students and scientists. It was a great experience. Something we shall keep close to our hearts.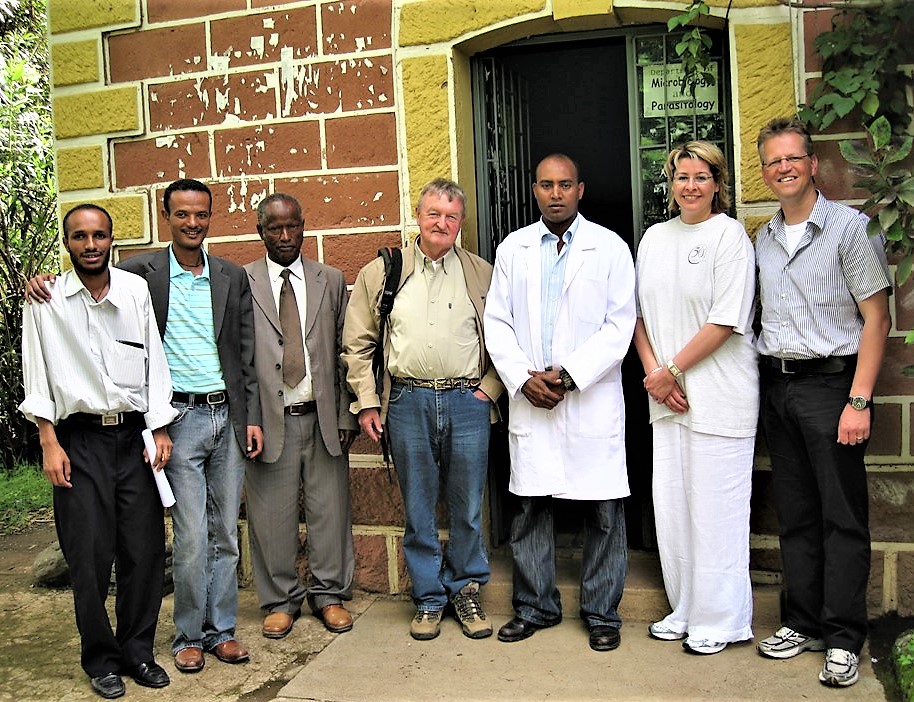 Over the years, we became friends. Dieter used to call us over the Christmas holidays. He always was interested in our endeavors. He had married Assegedech Bekele, a scientist as he was. We have fond memories of our meetings with the two of them.
Now, Dieter is gone. We shall not have this special Christmas phone call. We are sad and we miss him. Our thoughts are with his wife, Assegedech.
Fare thee well, Dieter!
Yours, Sabine and Joerg