November 13, 2021, in German language, translated on November 17, 2021
Started in February 2020, the SAJO blog is providing a thread through the pandemic with up-to-date information and suggestions around SARS-CoV-2.
You may zoom in and out using CTRL+ and CTRL-
Dear readers,
Since February 2020, we are writing at this place. Our readership is growing, which indicates a lot of interest in elucidation. For that we are thankful. Scientists are observing, they are analyzing and contextualizing what they see. They are examining these observations as well as their sources. And then they are passing it on. Unfortunately, we had made the mistake to do this matter-of-factly. Today, we want to do this in plain language. We are angry – even scientists do have emotions.
We share Christian Drosten's irritation and helplessness. We too are repeating ourselves since February 2020. Writing these posts is frustrating us in the meantime, since, even with a wide reach, we see pictures in the media of celebrating fools. Partying on a grand scale, tightly packed with strangers, without wearing any face masks at all. Does anybody remember Germany's first super spreading event? Does the name Gangelt ring a bell?
But this kind of stupidity is not limited to carnival parades. Events in the Munich Philharmonia use busses to pick up their audience, which indeed would make sense if there were enough of these busses. Instead, vehicles are crammed with people, the concert hall is fully occupied, and mask wearing is voluntary. Now, even in schools, mask mandates have been dropped.
The result may already be seen in the rising case numbers. How far shall this go?
An appeal to our politicians: Please, close all universities for good. We don't need them. This would be an honest consequence, since science is not being heeded. The general level of education in Germany is showing this, when looking at the general public's behavior.
It seems to us that not even 0.1 % of people comprehend what we are doing, what virologists are doing, and what a virus is. Since February 2020 we are explaining, since the beginning of the pandemic we are typing our fingers to the bone, without being paid for it, and now?
It is simply frustrating.
Nevertheless, today we sit down at the desk, write some advice, no, more than that, necessities, to stop this gigantic wave that our politicians let loose. Yes, dear politicians, you botched it!
What is your understanding of science? What is your general education? Who is in charge of the German Ministry of Education and Science? A guest service representative, who is as capable of doing this, as we would be when managing a hotel: Presumptuousness. The possible successor, Mr. Müller from Berlin, is raring to go. As former Berlin mayor he also was in charge of education and science. And as we all know, Berlin is a real flagship when it comes to schools.
Honest words? They are necessary. We are through with the arrogance of many politicians. The government was voted out, and now everything is starting all over again, the haggling for ministries, just like in a fair, while the public is on its own with the pandemic.
Hence, we feel we do have to make suggestions for the upcoming conference of state governors with Dr. Merkel dealing with the pandemic. Please discuss them, or better yet just implement them.
You may find them in our previous posts. Here is a summary:
A vaccine mandate makes sense for certain professions, that are dealing with many people, such as personnel in hospitals, nursing homes, schools, kindergarten, and those working in close proximity. A professional ethos is important. If I take care of someone, I am responsible for their wellbeing and health!
Civil servants should also be included, since they are dealing with numerous people, while not changing their habits, and should go and be an example. Otherwise, a two-class system may not go well with people. When working in public organizations we learned not to make differences. Thus: You are in the public service, now you have to do it. Note: vaccinated people, when infected, shed less virus. This is making a difference, it not only protects you, but also those around you from severe disease.
A general vaccine mandate does not make sense, since a) immune protection does not reach 90 %, and b) immunity does wane over time, and must be boosted regularly.
Re-open the vaccination centers and ramp up the campaign.
Prime quality tests, and PCR tests, have to be mandatory for the non-vaccinated, but also for those vaccinated, once the last shot was older than 4 months, when immunity starts to wane. This also needs to be applied for recovered persons. A license to freedom is not applicable since everyone may be re-infected and thus spread the virus. Immunity starts to decline after 4-6 months, depending on individual circumstances.
The discussion about 2G and 3G (a German acronym for vaccinated or recovered vs. vaccinated, recovered or tested) is invalid without any precautions indoors. Yet again: The donning of N95 masks is an obligation!
Face masks (N95) must be mandatory indoors! This includes schools, childcare, educational institutions, public transportation, any place surrounded by four walls and a roof. This includes the holy German automobile industry and soccer.
Adjust visitor density within closed spaces, accordingly, as has been done in the past. Distance and air exchange are necessary, at best installed by professional AC providers that guarantee best protection. And yet again: N95 mandates!
Public transportation needs to get a lot more busses and trains. Repeat: N95 masks.
Traveling in times of a pandemic is stupid at best, and deadly at worst. Vacation, skiing, carnival? Please, educate the public, since there is a clear lack of comprehension and education. Stupidity will teach us a lesson we do not want to learn.
Preparation of food, not just but also in restaurants or cafeterias and takeaways must be prepared wearing N95 masks and disposable gloves. This is no mere plea. This is a must.
Economy should be pressed to apply mitigation measures. A home office mandate is in order.
Making sure measures are in place must be tracked, such as in restaurants, local business, schools, public institutions, a.s.o. Violations must be penalized heavily, as with a closure for a week. Unfortunately, measures will not be heeded if not controlled and sanctioned. We ourselves are pleading for reason and education. However, we do see now that this does not seem to work with the public, economy, and politics. After two years! Unbelievable.
Did anyone think about developing N95 masks for kids? N95 masks need to fit snuggly. Masks made for adults won't fit kids' faces.
Finally: Hygiene, washing hands using soap, is inactivating virus. This virus is being excreted by feces. Thus, keep your toilets/ladies- and mens rooms clean and disinfected.
It is self-evident, that these measures must be implemented coherently countrywide.
This virus is being transmitted by aerosols, it is highly infectious, and it will further develop in this direction, i.e. mutate. Think about how to break this transmission path.
Take a look where we are. It is a shame for a country like Germany. But see for yourselve: https://coronavirus.jhu.edu/map.html
Globally, we reached 5th place in the hit list, with the US, the UK, Russia, and Turkey left in front.
Germany now is counting more than 5 M confirmed cases, close to 98000 deaths, and 185,000 new infections last week. Consequently, we will have over 1 M new cases in December. You may calculate for yourselves what consequences Christmas will bring, and how we will be starting 2022.
Prospects for 2022 are grim. Personal tragedies, the application of triage, if secretly, countless deaths, numerous people suffering from long term damage, including many young, economic crisis, and lots of morons, celebrating die Après-Ski in Ischgl, and carnival, without any second thoughts or consternation about what they are doing. Consideration, solidarity, the understanding of the virus' behavior and the workings of a pandemic, these are things we wished for. Why are we sending our kids to school? We are in the midst of the worst pandemic in one hundred years. Please, teach this. It is about time.
We had defeated the cholera through the implementation of a sewage water system, separating fresh from wastewater. Malaria in Europe was defeated by draining swamps. The plague was defeated through better hygiene and rat control. Smallpox was defeated by vaccines. Polio and measles are close to being eradicated by way of vaccine mandates. And now: There are excellent vaccines, but they do not confer a lifelong protection.
It is time to consider equipping our buildings with modern ventilation systems, since it is no longer acceptable to breath contaminated air.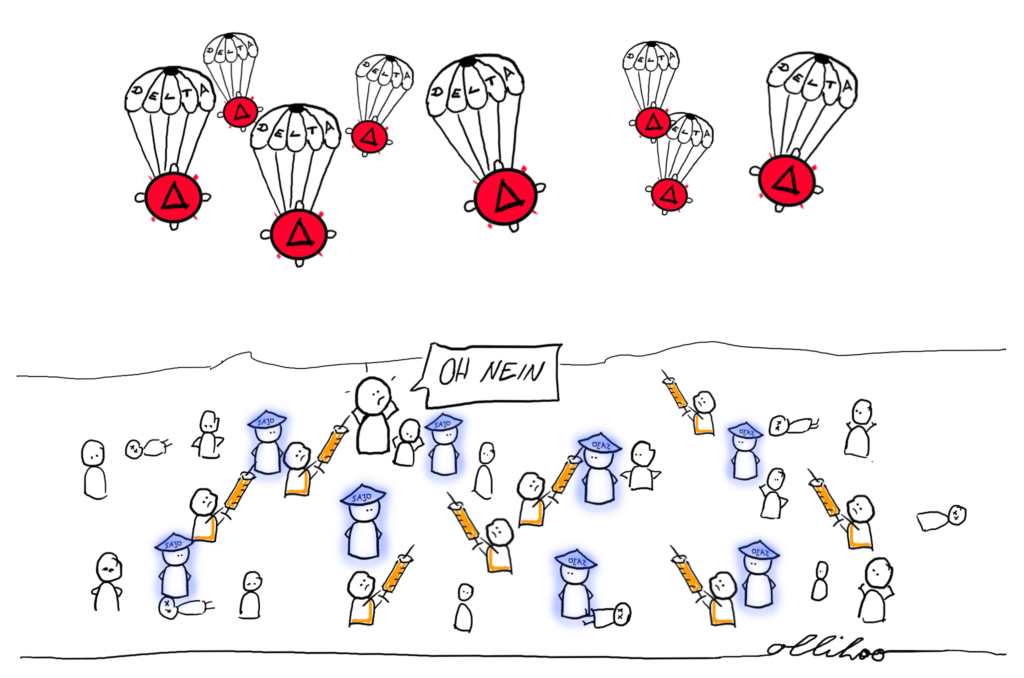 We have reached a new era. Deal with it. The pandemic, the virus, will stay, and it will change.
To those screaming because they do not want to be immunized, a minority: Stop shouting, you do not have to be vaccinated if you do not want to. Be happy for every single one getting a shot, because these people do also protect you and your freedom!
PLEASE, when indoors, wear N95 masks!
Yours, Sabine and Joerg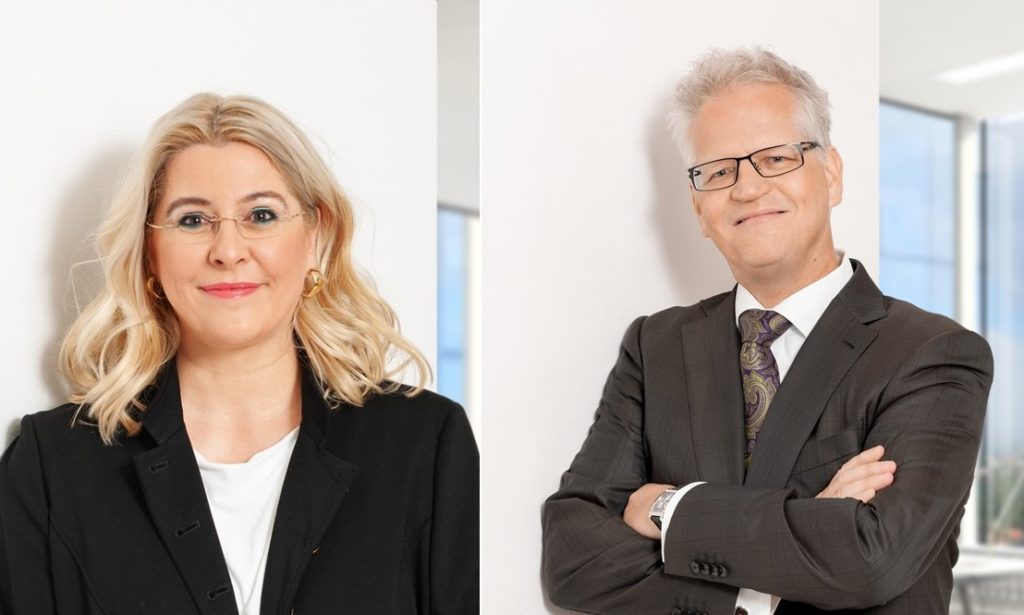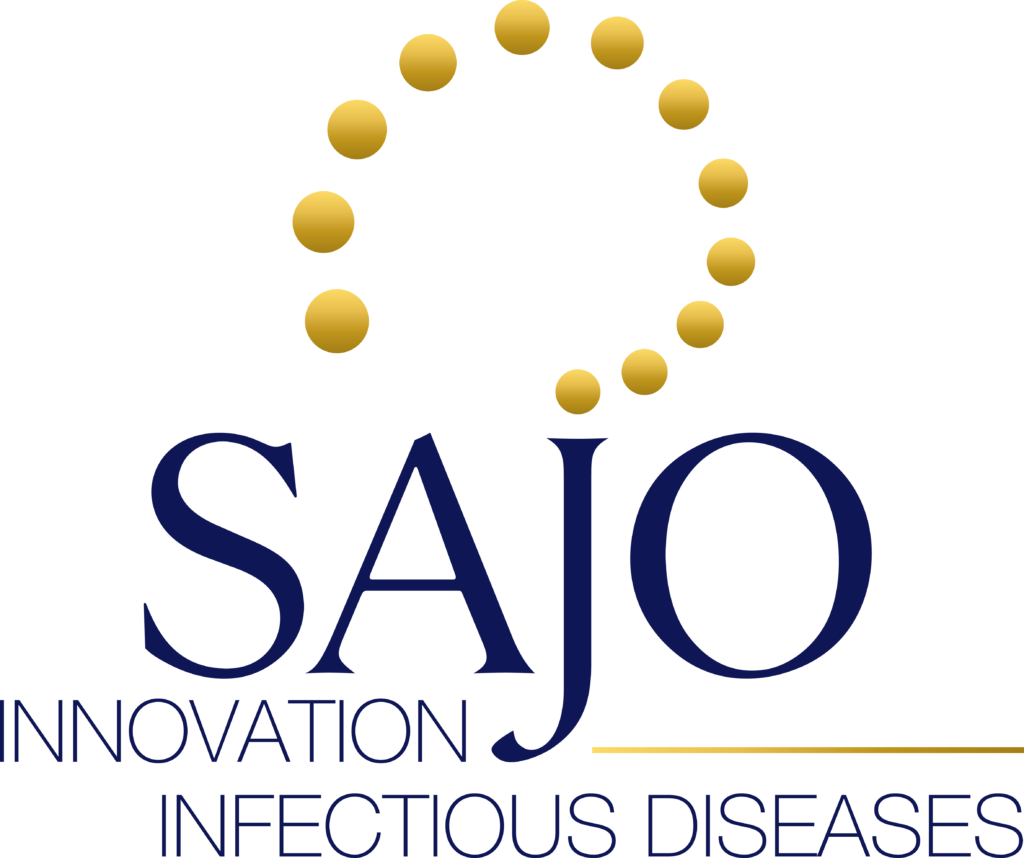 SAJO – for a healthy and better future!
SAJO is consulting all around infectious diseases. We are applying our know-how, that we have acquired in more than 20 years. We do what we can to fight this pandemic.
We thank Oliver Hoogvliet for his wonderful cartoons. It is always a pleasure! ollihoo (https://hoogvliet.de).

This is post No. 200. To our delight our blog is receiving a lot of acceptance, we love to share our know-how and experience. Please feel free to share the link – it is an informative tool to fight this pandemic.
(Note: We are no members of political parties, religious congregations, or societies. We value independence, sovereignty, and freedom. With our blog we are providing purely scientific advice, without conflict of interest, altruistic. We are not being paid for it.)

#1 Should you like to have SAJO antivirals or antibacterials, or to give a contract, or need consultation, or to invest into SAJO, please do not hesitate to contact us. You may use the formular at our homepage or phone number or email.
#2 On a regular basis we are asked for ideas. For ideas please feel free to contact us as well. You may use the formular at our homepage or phone number or email.
The SAJO business model: https://www.sajo-innovation.de/sajo-Flyer.pdf
Visit Sabine at XING https://www.xing.com/profile/Sabine_Breun and Jörg at LinkedIn http://linkedin.com/in/jörg-baumann-phd-0710b11a3