On October 31 Halloween was celebrated – since then we are on a pandemic HIGHWAY TO HELL yet again…
… don't we know this situation already?
November 10, 2021
Started in February 2020, the SAJO blog is providing a thread through the pandemic with up-to-date information and suggestions around SARS-CoV-2.
You may zoom in and out using CTRL+ and CTRL-
Dear readers,
Do you love Halloween? We got to know this celebration while living in the US. After arriving there in September 2000, our new colleagues did welcome us. We thank you for an extraordinary time. We were invited to several parties, such as on October 31, 2000, at Marion and Stuart's place.
Stressed out as we were after moving across the Atlantic, we went into a department store to find outfits in the kids' section. From the remainders on October 31, Jörg chose an eye patch, some fake teeth with horrible dental care, and a hook to replace a hand, and some makeup. He dressed as a pirate. I chose red devil's horns and a trident, to become an imp. There was no real selection available.
Before entering the Halloween party, we peeked through a window, to see if others were also dressed up as ridiculously as we were. Well, all of them were dressed, and a lot more professionally than we were. So, we entered and had one of the best parties to be remembered. It was great, and we had a warm welcome.
In the following weeks, we had numerous scientific meetings of different scales. Most of our colleagues we only recognized by their voices, since we had met them first at the Halloween event. Once the wigs were gone, we had a hard time to recognize them. It was great fun.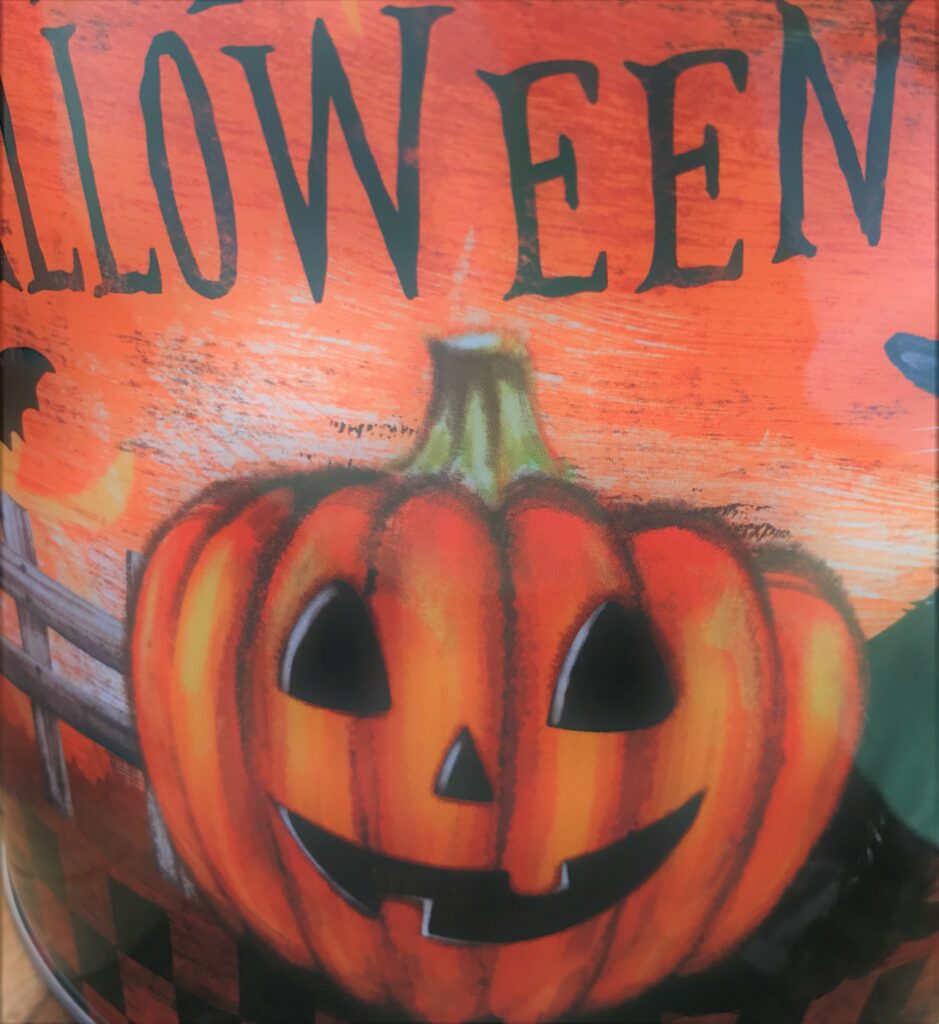 So, without any further ado:
A real horror trip is given by the steep increase in new infections, a nice post-Halloween. Medical doctors, and infectious disease researchers like us, all those comprehending the dynamics of this pandemic, should have understood the horror. We are on a highway to hell. The situation has changed dramatically. While politicians are discussing mandates like vaccination, recovery, or testing for public areas and events, the virus happily mutates and spreads.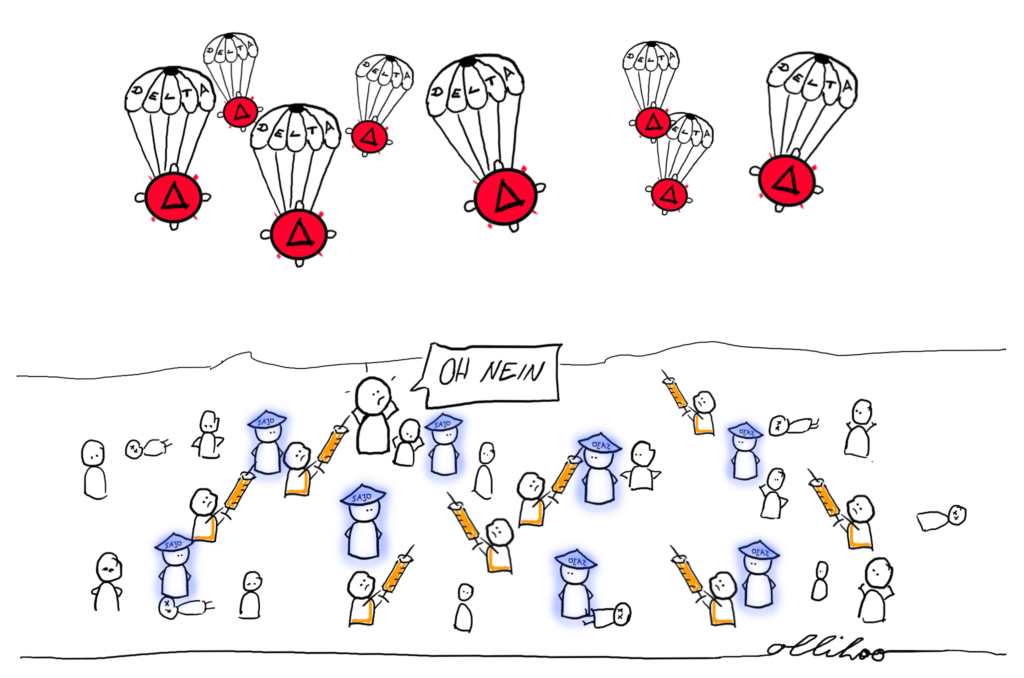 All those opposing measures should hold their breath. I cannot understand how these people may be able to put the high infection numbers, the suffering and deaths on their conscience.
A responsible person cannot.
Our appeal: Get your shots, and let your kids get them too. The vaccines at least protect from severe disease, and death.
Side effects of the vaccines may be treated with pain killers like Aspirin, that also reduce inflammations. The side effects are caused by the activated immune system, which is different from individual to individual.
Note: If your immune system is reacting vigorously against just one viral protein (the spike), what would happen with a full-blown virus entering your system? What do you think? An infection will be cruising through your body, all tissues, all organs.
This virus is changing and spreading at a worrying pace, while politics is deadlocked in discussions.
Thus, even with vaccines, or after recovery, and testing, keep donning N95 masks indoors. Why? Immunity does not last forever; you might get sick anyway. It is a matter of time and severity of disease.
We also advise to keep up all the commonsense rules, like distancing, masking, hygiene. What were they, again? Keep a polite distance of 6 feet, regularly wash your hands, and make a habit of donning your N95 masks correctly (no more surgical masks or the entirely useless community rags!)
Those vaccinated or recovered from disease may still get infected again, especially with new viral variants. They will transmit the virus to others if in proximity. Therefore, you should wear N95 masks when indoors. And even outdoors when distancing is impossible. Vaccinated and recovered people might get sick again, depending on their individual immune status, but less so than naïve patients. The new viral variants may overcome immune protection (by vaccine or previous disease) occasionally.
Nevertheless: A vaccine in most cases does protect you from severe disease and death.
One more comment on the discussion in the media around vaccines and their side-effects: If you want to revamp the electricity in your home, you don't call the butcher. Should your car need a repair, you don't call the luthier. If you suffer from an appendicitis, you don't go to the bricklayer.
So why on Earth do you ask actresses, soccer players, IT managers or philosophers about the makings of a vaccine?
Stay healthy and alert, and please don't let yourself be fooled!
A couple of days ago, we received an ad for skiing gear in our old-fashioned mailbox. What? Buy this and go to Ischgl? Is this all starting again? Then, mankind is out of luck. COVID-19 is no common cold!
PLEASE, FOR GOD'S SAKE: When indoors, wear N95 masks!
Yours, Sabine and Joerg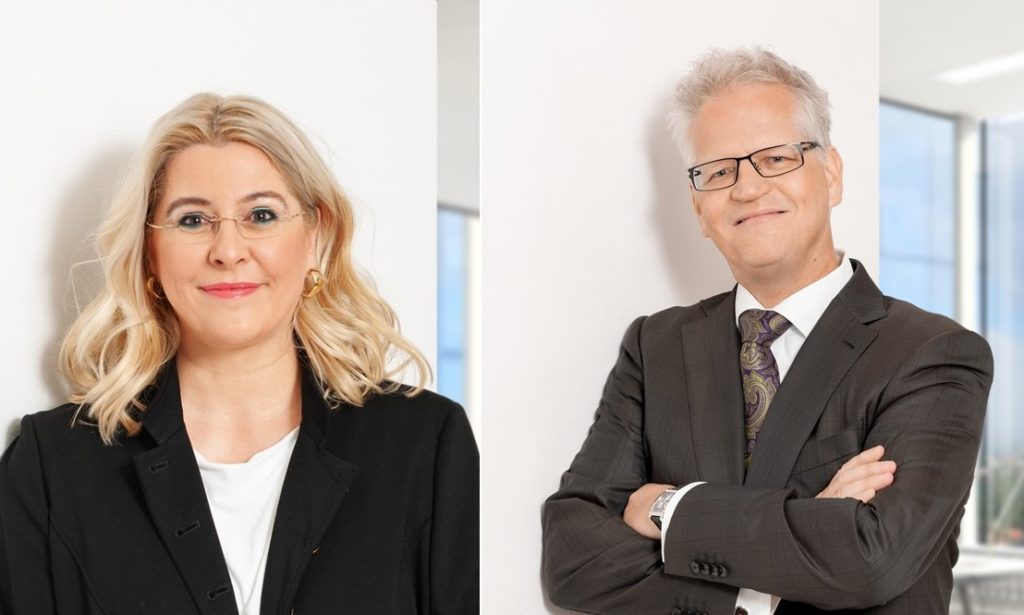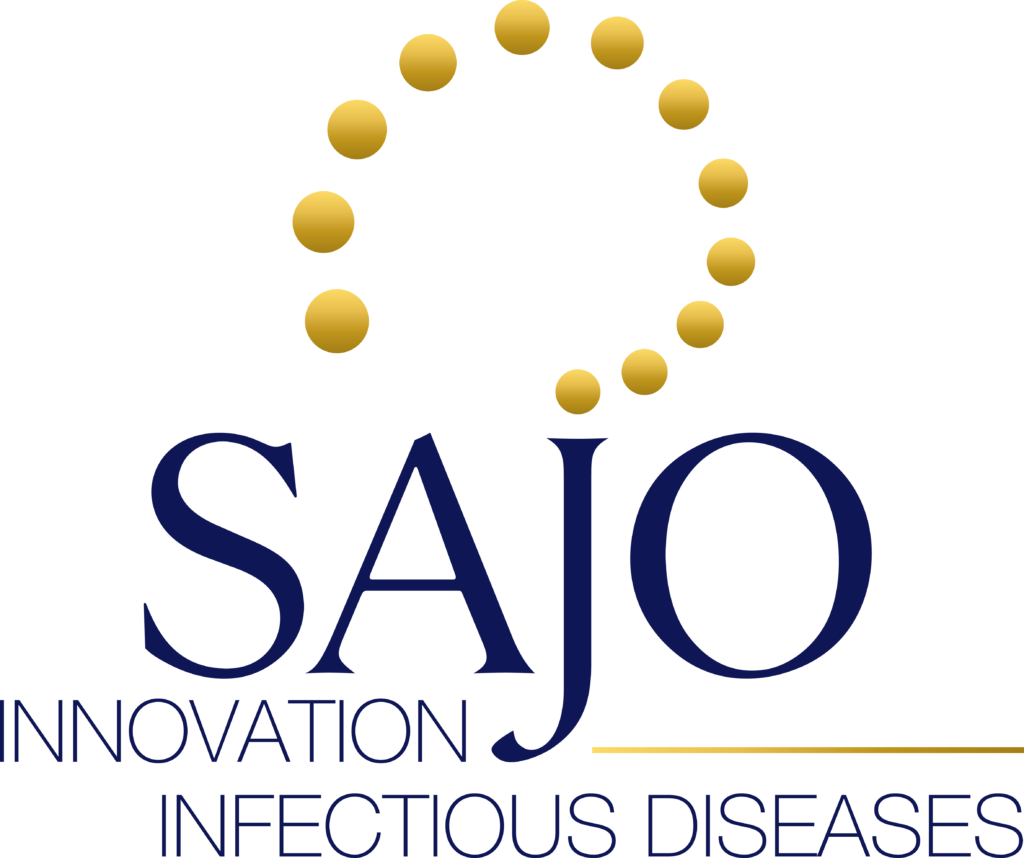 SAJO – for a healthy and better future!
SAJO is consulting all around infectious diseases. We are applying our know-how, that we have acquired in more than 20 years. We do what we can to fight this pandemic.
We thank Oliver Hoogvliet for his wonderful cartoons. It is always a pleasure! ollihoo (https://hoogvliet.de).

This is post No. 198. To our delight our blog is receiving a lot of acceptance, we love to share our know-how and experience. Please feel free to share the link – it is an informative tool to fight this pandemic.
(Note: We are no members of political parties, religious congregations, or societies. We value independence, sovereignty, and freedom. With our blog we are providing purely scientific advice, without conflict of interest, altruistic. We are not being paid for it.)

#1 Should you like to have SAJO antivirals or antibacterials, or to give a contract, or need consultation, or to invest into SAJO, please do not hesitate to contact us. You may use the formular at our homepage or phone number or email.
#2 On a regular basis we are asked for ideas. For ideas please feel free to contact us as well. You may use the formular at our homepage or phone number or email.
The SAJO business model: https://www.sajo-innovation.de/sajo-Flyer.pdf
Visit Sabine at XING https://www.xing.com/profile/Sabine_Breun and Jörg at LinkedIn http://linkedin.com/in/jörg-baumann-phd-0710b11a3